Atlantic Leaders Visit Annapolis Valley
By Michael Agbeti, Halifax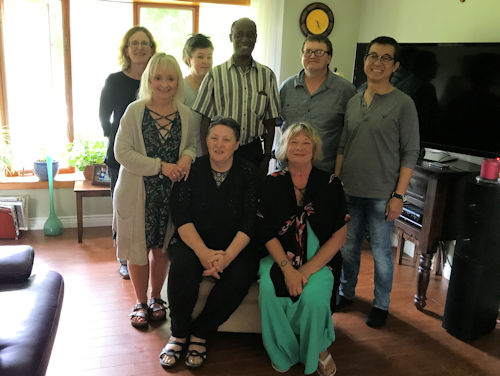 There are a number of places spread across the Atlantic Area where there are only a handful of SGI practitioners. The practice can be challenging in those situations compared to cities with larger memberships. One such scenario is in the Annapolis Valley, Nova Scotia, about an hour's drive from Halifax. Three members have relocated there about three years ago. Two of them live in New Minas and one in Wolfville, only a 10 minute drive apart. In addition to having their own monthly meetings, they have been making the one hour drive to attend meetings in Halifax. To support them, members from Halifax have been travelling occasionally to have meetings with them.
On August 13, Atlantic Area Leaders Louise Meyer and Michael Agbeti, along with two other members travelled to Wolfville to attend a meeting. With one guest in attendance, the meeting started with vigorous chanting, followed by self-introduction and a brief explanation of Nichiren Buddhism. There was a lively discussion on the topic of Actual Proof, during which experiences were shared. The guest could easily relate to the topic and asked several intriguing questions.
Everyone was inspired by the meeting. They felt that the meeting, though small, was a great cause for future growth of the organization in the Annapolis Valley.