Calgary Hosts Two Mini Caledons
By Chris Eddy, Calgary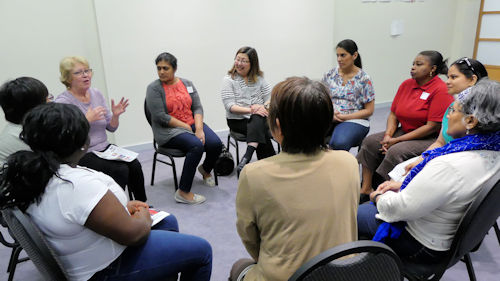 Mini Caledon group discussion. Photographed by Jerry Churphongphun

Based on the success of the conferences we have had over the years at the Caledon Centre for Culture and Education, the women's and young women's groups in Calgary created a locally based "Caledon" conference this year.
On June 2, during a visit by national and regional leaders, we conducted two mini conferences of two hours each, one in the afternoon and one in the evening.
The conference theme "We Create Our Own Happiness" was taken from the June 2018 New Century. Our collective goal was for each two hour conference to welcome participants.
Just like the regular Caledon conferences, we used registration forms to ensure firm numbers, conference packages were created and a system for the smooth transition from presentations to small group discussions.
Participation far exceeded expectation as 135 people participated. Many friends came for the first time as well as those guests who had come before and several decided to join SGI.
Through the creation of our own local "Caledon," many people took initiative and ownership of the success of this event. It energized our Calgary organization with the excitement of a brilliant achievement won together and given us new momentum toward achieving our goals, especially toward November 18 this year.