First Ever Western Region Men's Group Summer Course
Frank Asin and Ned Boyden, Vancouver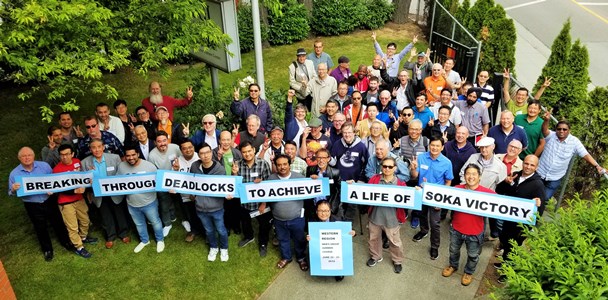 Group photo of participants in Vancouver (photographed by Po-wah Ng)

With "Breaking Through Deadlocks to Achieve a Life of Soka Victory" as our theme, the Men's Group of SGI Canada's Western Region held its first ever Men's Group Summer Course on Saturday, June 22. The day-long course began at 9:00 am, with one hour of chanting and ended around 5:30 pm with high spirited determinations and experiences. The following morning, SGI Canada practitioners and their guests gathered for a Men's Group sponsored introductory meeting. The total attendance for both meetings was 140.
The event drew its spirit from this passage by SGI President Daisaku Ikeda:
Rather than one person taking one hundred steps forward,
Let's aim for one hundred people taking one step forward together!
When capable individuals who have embraced their lofty mission rise up in action together,
They can achieve a fresh new victory.

(Unofficial translation of "To My Friends" from March 21, 2019)
Coming from all across British Columbia including Victoria, the men who attended were able to create the same amazing atmosphere as was experienced in our historic Caledon conferences; right here in Vancouver!
As one participant said, "The conference was a great success not the least of which were the detailed planning meetings held every Saturday for a period of almost four months!"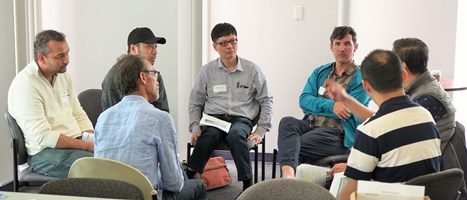 Small group discussions (photographed by Tony Chou)

The informal and relaxed environment helped us to value the time we spent together, with abundant, invigorating chanting and opening our hearts in small group discussions. Many new friendships were established by the sharing of personal experiences. As one person said, "listening to each other's struggles and how we overcame our problems was incredible and inspiring."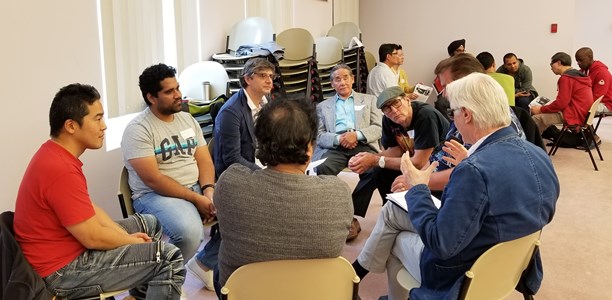 Small group discussions (photographed by Po-wah Ng)

The study materials chosen for the conference, "The Vancouver Declaration" and "A Rainbow Over Niagara", were both given to Canada by SGI President Ikeda, outlining the way for us to achieve Canadian kosen-rufu. Presentations by SGI Canada General Director Tony Meers, SGI Canada Men's Leader Ian Mattinson and SGI Canada Senior Vice General Director Harry Miyazaki, set the stage for the small group discussions that followed.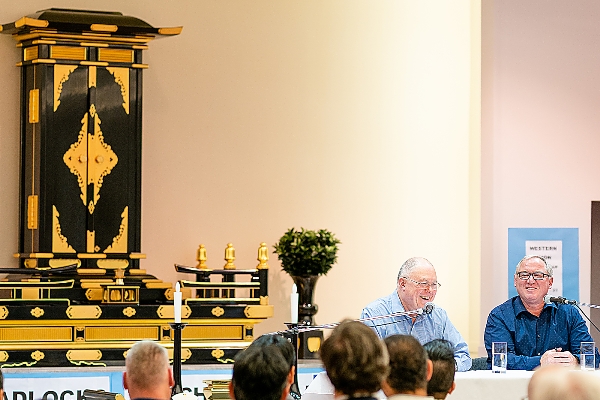 SGI Canada General Director Tony Meers (left) and national Men's Leader Ian Mattinson shares encouragement (photographed by Keith Yee)

Another participant added that at the introductory meeting, "Our first men's choir sang 'The Waterfall' song in Japanese. Since most of the choir were not Japanese speaking, they transcended cultural differences symbolizing our Canadian culture in which we embrace all nationalities."
The Men's Group Summer Course was a wonderful opportunity for us to refresh our determination, strengthen our faith, and develop friendship amongst ourselves. Building on the momentum created by this activity, the men of the Western Region are determined to make our annual Men's Group introduction activities in August and September more successful than ever!