Four Leaders Visit Atlantic Area
By Nick LoPresti, Halifax
Left: Meeting in Moncton (Photographed by Glenn Copeland) and Right: Halifax (Photographed by Barbara Paterson)

From October 26 to 29, Atlantic Area received four visiting region and national leaders. SGI Canada Women's Leader Helen Izumi-Choi and Eastern Region Women's Leader Monica Bachmann visited Halifax. Eastern Region Men's Group leader Dwight Rudisuela and Young Men's Leader Koichi Paxton visited PEI and two cities in New Brunswick before joining meetings in Halifax.
Saint John New Brunswick
By Kris Trotter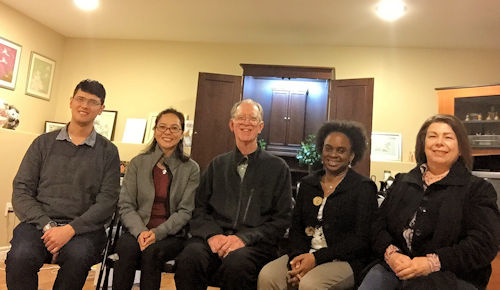 Meeting in Charlottetown (photographed by Jolene Chan)

After meeting the practitioners in Charlottetown, PEI, who were very grateful for their visit, Dwight and Koichi travelled to Saint John where a new district called Rising Tide District was announced. The meeting was informal and encouraging especially since one person officially joined SGI Canada. She is the first SGI practitioner in Saint John who is actually from Saint John. There are now four practitioners, two loyal supporters and two guests supporting the meetings. Since the visit by Dwight and Koichi, one of the loyal supporters has expressed her intention to join SGI this year, and a guest has vowed to return regularly. We are so grateful to Dwight and Koichi, and to SGI Canada General Director Tony Meers who visited earlier this year, for bringing us your wisdom, encouragement and causes for kosen-rufu[i]. Bodhisattvas are rising from the earth in Saint John and our district is rising like the great Fundy tides where we live!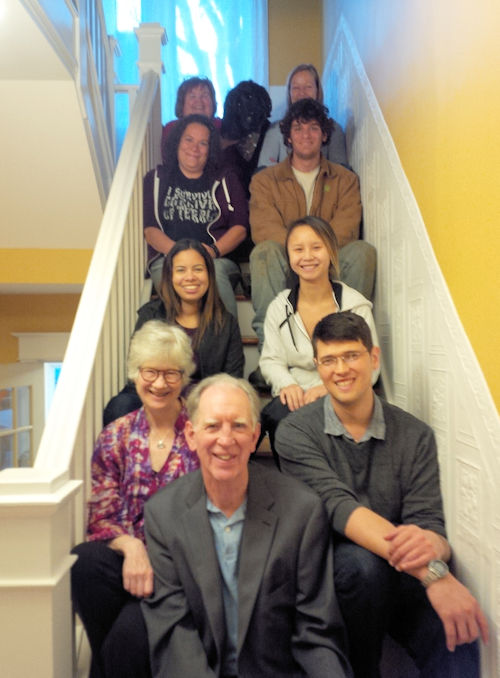 Meeting in Saint John (Photographed by Kris Trotter)

Moncton, New Brunswick
By Masako Nakao
On October 28, Dwight and Koichi attended a meeting in Moncton. The 30 attendees included members from the Grand Falls area, Saint John, Miramichi, Sackville and Fredericton. The packed agenda featured the celebration of a new women's division member joining SGI, the appointment of a new men's leader, the songs "I Have a Mission" and an original song entitled "Rise People Arise." Two women gave experiences about overcoming obstacles at work and another battling alongside her father's fight against cancer. A Q&A closed the meeting which was followed by refreshments and snacks. It was a warm, very encouraging meeting with one guest expressing a desire to joining SGI soon.
Halifax, Nova Scotia
By Michael Agbeti
On October 28, in Halifax, Helen Izumi-Choi and Monica Bachmann spent the day with home visits and guidance sessions. In the evening they were joined by Dwight Rudisuela and Koichi Paxton to encourage local leaders and discuss the future growth in the area.
The following day 40 people, including seven guests, attended the general meeting of Halifax's East Wind district. Many people travelled some distance coming from Antigonish, New Glasgow, Great Village, Wolfville and New Minas to attend. The lively activity included experiences of those who attended recent Caledon Conferences, two musical performances, and a Q & A session which gave an opportunity for the guests to understand more about Nichiren Buddhism.
The visiting leaders shared their encouraging experiences and an invigorated atmosphere carried through to the informal discussion over refreshments.
[i] Kosen-rufu: Literally, it means "to widely declare and spread [the Lotus Sutra]"; to secure lasting peace and happiness for all humankind through the propagation of Nichiren Buddhism. More broadly, kosen-rufu refers to the process of establishing the humanistic ideals of Nichiren Buddhism in society.