Galloping Horse District Yukon
By Johanna Goossens, Whitehorse, Yukon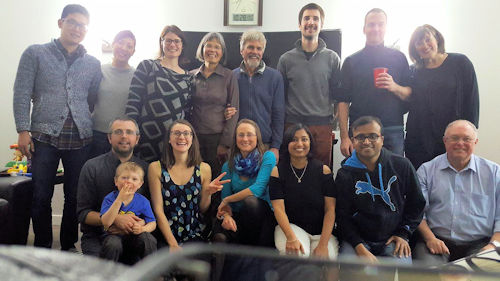 First inaugural meeting at Galloping Horse District

On October 27, SGI Canada General Director Tony Meers landed in Whitehorse, Yukon, for the first time. His visit coincided with the 57th anniversary of SGI President Daisaku Ikeda's first visit to Canada in October 1960.
Local practitioners had the opportunity to meet and discuss one-on-one the challenges and opportunities of living north of the 60th parallel. With the spirit of sharing and dialogue, we organized a discussion meeting with six guests who were able to attend. The theme of the meeting was "Our Inner Philosopher", based on the book of the same name featuring the dialogues between philosopher Lou Marinoff and President Ikeda.
During a study meeting, Tony announced the creation of the Galloping Horse District, the first district in Whitehorse in the history of SGI Canada, as well as four district division leaders. Our supporting leaders from Edmonton, Paula and Paul Reich also attended via videoconference.
This two-day visit marks the beginning of our Whitehorse journey for kosen-rufu[i]. With the creation of the district, we are determined more than ever to significantly contribute to world peace by organizing and promoting Soka activities in the Yukon and also by connecting with other northern communities with SGI Canada practitioners.
I was especially touched by the smooth planning and lively exchanges during these activities. Thank you to everyone for all the chanting toward supporting Tony's visit which has brought a new impetus to the newly created Galloping Horse District.
[i] Kosen-rufu: Literally, it means "to widely declare and spread [the Lotus Sutra]"; to secure lasting peace and happiness for all humankind through the propagation of Nichiren Buddhism. More broadly, kosen-rufu refers to the process of establishing the humanistic ideals of Nichiren Buddhism in society.