Human Rights Education Exhibition Launched in Windsor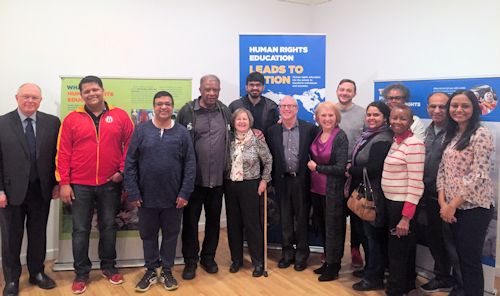 SGI Canada General Director Tony Meers (far left) with
SGI practitioners in Windsor

From March 16 to 21, Windsor's Mackenzie Hall Culture Centre hosted the first showing in Canada of the exhibition: "Transforming Lives: The Power of Human Rights Education."
The 25-panel exhibition presents stories of how human rights education has led to transformation and empowerment in the lives of individuals and communities in Australia, Burkina Faso, Peru, Portugal and Turkey. The exhibition also examines what ordinary citizens and civil society organizations can do to nurture a culture of human rights.
The exhibition was co-organized by the SGI together with HRE 2020, the NGO Working Group on Human Rights Education and Learning and the Platform for Human Rights Education and Training, with thanks to the Office of the United Nations High Commissioner for Human Rights. It was created to celebrate the fifth anniversary of the adoption of the United Nations Declaration on Human Rights Education and Training.
The event in Windsor was presented by SGI Canada, in collaboration with the City of Windsor, New Canadians Centre of Excellence and the University of Windsor's Office of Human Rights.
At the opening on March 16, Windsor City Councillor Fabio Costante brought greetings from Windsor Mayor Drew Dilkens. Former Windsor Jewish Community Centre executive director Harvey Kessler emceed the event and SGI Canada General Director Tony Meers spoke on the importance of human rights education and the value of the exhibition to bring awareness of how ordinary citizens can make a difference.
SGI Windsor leader Iole Iadipaolo said: "I just hope viewers get a sense that they are very important in their own right and that they have a lot of ability, a lot to offer as a person in the community, but also as an instrument of change to make the world better for everyone."