Lighthearted Young Men's Conference
By Philippe Mizutani, Montreal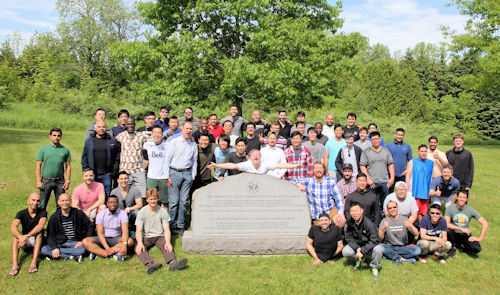 On June 9, young men from across Canada gathered at the SGI Canada Caledon Centre for Culture and Education for the 2017 Young Men's Caledon conference.
The joy of renewing old friendships and the excitement in meeting new friends filled with hope and determination was palpable from the very first moments.
What was also immediately apparent was a general sense of ease and genuine comfort that particularly marked this year's conference. This feeling permeated each session led by the various regions. The presentations were joyful and lighthearted, each followed by the opportunity for participants to share their thoughts and experiences in small groups. These small group discussions were another wonderful distinctive element to this year's conference, allowing each person to share much more freely and form much deeper bonds with friends from across Canada.
One session was almost entirely devoted to sharing our personal experiences, as well as our determination for working hard to achieve SGI Canada's great goal of 10,000 practitioners by November 18, 2018.
One particularly notable session celebrated the 30th anniversary of SGI President Ikeda's poem to Canadian members "A Rainbow over Niagara." Participants shared their thoughts and impressions on this extraordinary poem, a moving heritage and powerful statement of mission for the members of Canada.
Our culture night was filled with the sincerity of several moving experiences in faith and humorous skits.
Leaving this year's conference was a more lighthearted affair than most years, as it was clear for almost all that this was only a pause before we see each other again in 2018.