Make a Vow, Change, and Win for Canada Kosen-rufu
By Susumu Uchida, Waterloo, Ontario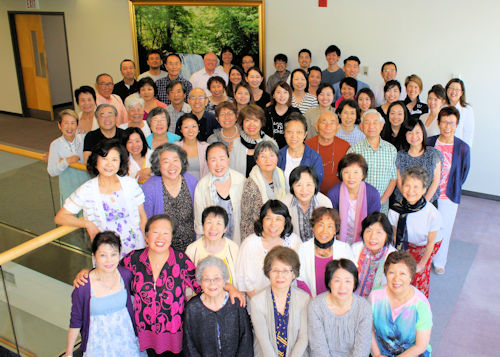 From June 22-25, the Japanese Language Caledon Conference took place with the theme, "Make a vow, Change, and Win for Canada Kosen-rufu." The conference was a successful and inspiring conference with a full house of 60 participants from their early twenties up to one participant who was 88 years old. Almost half of the participants came from the Western, Prairie and Quebec Regions as well as 33 from Central Region.
SGI Canada General Director Tony Meers and SGI Canada Women's Leader Helen Izumi-Choi inspired us all with their guidance that included the SGI Canada's goal of 10,000 practitioners by November 18, 2018.
In his message to the participants, SGI President Daisaku Ikeda praised the efforts of the members of the Japanese Language Group who have selflessly struggled behind the scenes to take care of whatever task was necessary of the sake of kosen-rufu. Everyone, especially senior pioneer members, were touched by his encouraging message.
Recognizing deep meaning of the individual noble mission, Japanese speaking members are determined to strive for Canadian kosen-rufu with the unity of many in body, one in mind to achieve the SGI Canada goal by November 18, 2018.