Men's Group Breakthrough at Caledon
By Dwight Rudisuela, Ottawa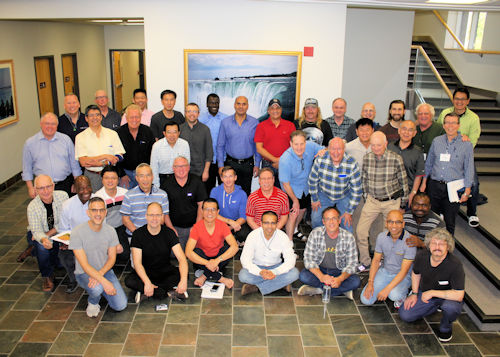 From October 19-22, 45 men gathered at the SGI Canada Caledon Centre for Culture and Education to share experiences and study at the Men's Caledon Conference. The theme of the conference was "Breakthrough!"
President Ikeda sent an encouraging message to the conference participants saying that when you have solidified within you the life state of Buddhahood you can transform hardship into good fortune and make your life shine with magnificent brilliance.
The men, who came from across Canada, really got to know each other well and generated a true bond of friendship. The unified powerful sound of the men chanting together was like a lion's roar full of determination to share the practice of the SGI with others.
In small discussion groups, they shared their experiences in using the practice of Buddhism and discussed the meaning behind several of SGI President Ikeda's and Nichiren Daishonin's writings.
In addition, there was a Q&A session led by SGI Canada General Director Tony Meers that informed and inspired the men to move forward in their lives. He particularly emphasized that as men we can illuminate our organization with our experience and support of others especially the young.
During one session, there were six in-depth experiences that were very moving. One heartfelt experience was about overcoming family strife, abuse and symptoms of PTSD by chanting Nam-myoho-renge-kyo. Impromptu one-minute experiences scattered throughout the four days gave everyone a chance to share the joy of their Buddhist practice.
Totally refreshed, the men returned home with the determination to improve their lives and those around them.
Impressions
The men's experiences were very compelling. I am very encouraged by the brave faith to "Breakthrough" exhibited by my fellow men's group practitioners across Canada. Paul R., Edmonton
The Caledon Men's conference is a wonderful gathering of experienced practitioners of Nichiren Buddhism. I have learned a lot from the presentations and discussions together. This is such a relaxed environment to learn about Buddhism. Benny M., Richmond, BC
Talk about your brotherhood of man, we had it! No pretense, no apology and a willingness to reveal all in the name of friendship and laughter. Mark M., Toronto
This is my first time at Caledon and won't be my last. Spiritually uplifting and refreshing. The connections made will stay with me for the rest of my life. This conference has given me the confidence to open my heart to others and accept myself just a little bit more. The lessons learned will allow me to open more doors and open myself to the victories in life I would otherwise miss. This conference has allowed me to deepen my faith and resolve toward kosen-rufu[i]. I am profoundly grateful. Steven B., Ottawa
Je suis venu à cette conférence avec pour but de repartir sur de nouvelles bases dans ma vie fondé sur le Gohonzon. Mon ouverture, la connexion avec les membres, les échanges de cœur à cœur ainsi que les expériences des uns des autres m'ont permis de recharcher mes batteries. Je repart avec la détermination de créer un nouveau district à Val-d'or. Talla T., Val-d'or, Québec
This Caledon conference was really refreshing and powerful. I have such appreciation to be practising Buddhism at this time with President Ikeda who is making so much effort for kosen-rufu. I will exert myself to continue to support all the members in my district. Now is the time! Jaime S., Oakville, Ontario
More than ever I felt a deep sense of camaraderie with my fellow men's group practitioners. I leave refreshed and encouraged. I will carry with me and treasure unforgettable memories of my time here. Pat H., Guelph, Ontario
The Men's Caledon Conference is one of the most important and anticipated events in my calendar year. The 2017 conference surpassed all expectations. We shared heart-felt experiences, delighted in greeting old friends and cherished meeting new friends from across Canada. I am swept with emotions of deep gratitude to be able to attend and share so much of this practice with other men. Enormously encouraging. Paul G., Montreal
I feel so privileged to spend the weekend studying, chanting and sharing experiences with men of the highest integrity, warmth and compassion. Ian M., Calgary
[i] Kosen-rufu: Literally, it means "to widely declare and spread [the Lotus Sutra]"; to secure lasting peace and happiness for all humankind through the propagation of Nichiren Buddhism. More broadly, kosen-rufu refers to the process of establishing the humanistic ideals of Nichiren Buddhism in society.