North America & Oceania Study Conference
By Heather O'Halloran, Toronto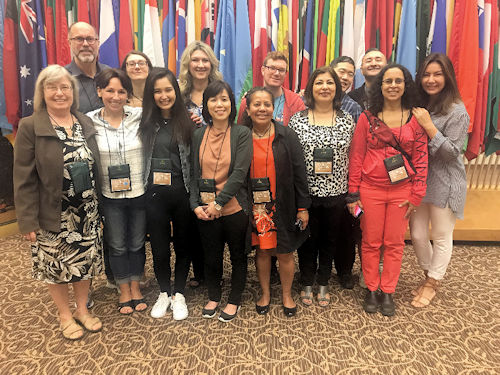 SGI Canada participants

Fourteen enthusiastic participants from SGI Canada attended the North America-Oceania Study Conference from January 26-29. Held at the SGI-USA Florida Nature & Culture Center, they joined with practitioners from SGI-USA and New Zealand. SGI Vice Study Leader, Hidetoshi Fukuda led the conference.
For me, meeting SGI practitioners from across Canada and other countries was exhilarating. What a wonderful way to kick off the Year of Brilliant Achievement and our final push in our respective countries, toward achieving our goals for increasing SGI membership worldwide. The guidance we received was perfect for this moment—providing confidence and clarity as we return to our respective communities. With so many serious difficulties today in the world, we were assured again and again of the relevance and importance of the vow to introduce this Buddhism to others for their happiness and ours.
Mr. Fukuda, during his lectures, taught us through his warm, engaging behaviour, humility, personal experiences and instructive interactions with President Ikeda. He explained President Ikeda's behaviour as a model for how we could proceed, such as focusing on youth, and shared what SGI organizations in other countries are doing that could help us in our development, such as prioritizing the mentor-disciple relationship.
Together we studied President Ikeda's Study Lecture Series, The Buddhism of the Sun—Illuminating the World covering three themes: the vow—the conviction to achieve world peace and the happiness of all people; harmony—establishing a realm of equality that recognizes the dignity of all people; and happiness - enabling all people to lead victorious lives.
Mr. Fukuda noted that President Ikeda at this time is teaching eternal guidelines that we can "etch in our lives" and commented that President Ikeda selected these themes as central to solving the serious problems that plague the world today. Mr. Fukuda encouraged us to focus on the vow of helping those who are suffering to become happy, and the importance of staying close to "good friends" in faith in the SGI, no matter how difficult. The study material reminded us that chanting with conviction in our own Buddha nature and our vow for the happiness of others unleashes real power, transforming everything into mission and establishing a solid happiness nothing can shake.
The closing ceremonies provided an opportunity for some culture as well. We from Canada prepared well and our presentation of excerpts from President Ikeda's "Rainbow Over Niagara" poem for Canada along with the music of SGI Canada's Youth song, "There's a Sun Within You" was a big success.
We return refreshed and determined to work together with our fellow practitioners for the happiness of our families, friends, and communities and the ambitious goal of 10,000 members in Canada by October 2.
Impressions
This was a wonderful conference on so many levels. I deepened my understanding of Buddhism, made great new friends and renewed old friendships, understood more deeply how to work alongside and continue the great work of President Ikeda and reaffirmed my vow to spread SGI Buddhism throughout Quebec and Canada. Jeff D., Montreal
An amazing experience! I was so inspired, especially by the unity of "many in body one in mind" as shown in our culture performance. I feel a strong sense of mission after coming back. My personal determination is to introduce at least three people and help our chapter increase by 15 practitioners. Sandy L., Toronto
I vigorously challenged myself toward this conference, knowing that whatever I put in will deepen the meaning of the experience. I was utterly blown away being surrounded by SGI members from USA and New Zealand, with deeply compassionate hearts and brilliant achievements. It was an amazing experience to learn President Ikeda's grand vision and make a vow to dedicate my life for kosen-rufu. Ken I., Burnaby, BC
Attending the FNCC conference was an amazing experience. It was truly wonderful to meet so many Bodhisattvas of the Earth walking the same path with our mentor with joy. I came back with a definite feeling in the depth of my heart to respond to President Ikeda. Such a great feeling makes me determine to achieve my own human revolution and work even harder for my vow in our beautiful land of Canada. Lillian M., Toronto
Lors de cette conférence, j'ai été particulièrement touchée par les récits détaillés de Monsieur Fukuda qui m'ont permis de créer un lien encore plus profond avec Président Ikeda. Je me suis sentit à ma place et je me suis sentit réchauffée par le temps clément ainsi que par le cœur chaleureux de chaque participant engagé pour kosen-rufu. Johanna G., Whitehorse, Yukon
J'ai été très inspirée par toutes ces directives d'étude. J'ai eu la chance de rencontrer et d'échanger avec des gens exceptionnels, de créer des liens d'amitié qui perdureront. Je suis vraiment plus déterminée que jamais à faire ma révolution humaine et à travailler plus fort à kosen-rufu de façon active avec cette conviction que j'ai acquise lors de mon séjour à FNCC. Maguy E., Gatineau, Québec