North America & Oceania Study Conference: The Teachings for Victory
By Mirelle Thai, Toronto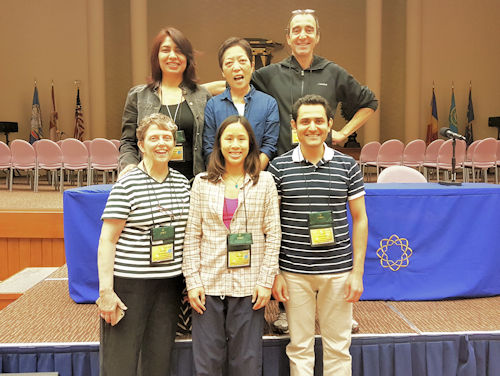 From August 25 to 28, six SGI Canada practitioners embarked upon a journey to deepen their faith through study and dialogue. There were 196 members in attendance representing leaders from North America and New Zealand. The experience was filled with in-depth study, inspiring Q&A sessions and personal guidance that revitalized each person's practice.
SGI President Daisaku Ikeda sent a message of encouragement to the participants for the opening ceremony in which he praised the great distances that everyone travelled indicating the depth of resolve as well as the abundance of fortune and benefit that every one of the participants will undoubtedly enjoy.
SGI practitioners had come from far and wide despite the problems of hurricane Harvey that had affected their travel plans. Forging ahead with the conference with the spirit to defend the movement for peace alongside our mentor, President Ikeda, indicated the emergence of true disciples of SGI.
The lecture series was led by SGI Vice Study Department Leader, Hidetoshi Fukuda who thoughtfully explained the writing of Nichiren Daishonin titled "On Establishing the Correct Teaching for the Peace of the Land." He emphasized the fact that people are seeking a philosophy that will lead to genuine happiness. In order to establish the peace of the land, our movement must continue to enable everyone to reveal their inherent dignity and fullest potential. Through dialogue and genuine friendship, we can expand our network to create a world of harmony and peace
By chanting Nam-myoho-renge-kyo and challenging ourselves to do SGI activities we can put the ideals of this writing into our daily lives. By overcoming our own weaknesses and transforming our karma into mission, we can open the way to a happy life, showing actual proof in our family, work and respective communities. The emphasis on study, alongside faith and practice is the driving force for sharing this practice with others, enabling the youth of tomorrow to carry on our mentor's legacy.
Impressions
Attending FNCC was a pivotal turning point in my practice, as I was finally able to truly understand the elusive concept of the "Oneness of Mentor and Disciple." While visiting the exhibition at Ikeda Hall, I came upon the Room of the Vow where the calligraphy "kyosen" or "shared struggle" was displayed. President Ikeda had written this after his resignation was announced on May 3, 1979, in which he determined to stand alone in spreading Nichiren Buddhism throughout the world.
54th Year [of the Showa period, 1979]
The evening of May 3
I am determined to advance kosen-rufu
Throughout my life,
With an unshakable heart,
Trusting there are true comrades
This deeply resonated with me as I felt that the words were directly addressed to me. I am President Ikeda's comrade and I will stand by him and carry on this mission, no matter what the circumstance. The vow that he has expressed to advance kosen-rufu through his life, I take on as my own; ensuring that I honour his legacy and carry on his message for generations to come. Profound appreciation for President Ikeda's life, sacrifice and dedication to each member in our organization and the world emerged. My personal bond and eternal vow with my mentor is now etched in my heart. M. Thai, Toronto
I learned a lot from Mr. Fukuda's lectures, sharing experiences with fellow practitioners and immersing myself in deep study, plenty of chanting and being surrounded by the centre's beautiful nature. As an exemplary disciple, Mr. Fukuda's spirit resonates with President Ikeda's heart. We learned that we can help our friends overcome their sufferings by introducing them to Nichiren Buddhism. They can transform their hearts and minds for the better. This inner transformation at the individual level will lead to the transformation of our society leading to a peaceful world. We also studied the basics of "Faith, Practice and Study" and the importance of supporting the youth who are the future of SGI. A.Terzuoli, Calgary
The FNCC conference was a fresh start toward my determination to fight for kosen-rufu in Canada. I felt energized by my interactions with SGI-USA members and after watching the movie Traveller for Peace where President Ikeda travels for the first time outside of Japan to spread Nichiren Buddhism. I felt very inspired by the energy level of SGI-USA members who are determined to have 50,000 youth division members by November 18, 2018. A strong determination like this is absolutely required to bring about happiness in the lives of countless people across the world. A similar spirit is what I am determined to bring to SGI Canada. No matter what, I will stand firm in this path and raise many capable successors and leaders. Also I am determined to reach out and do more to share this wonderful philosophy with many others.
Finally, I am also determined to strengthen my own studying and make a conscious effort to study the Record of the Orally Transmitted Teachings and other writings of Nichiren Daishonin. V. Mukerjee, Toronto