Seeds of Hope Carries Sustainable Message to Canadian Mayors
By Roberta Lloyd, Ottawa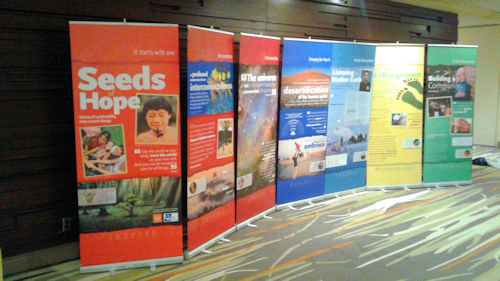 "Seeds of Hope" exhibition at the Federation of Canadian Municipalities conference

From February 5-8, environmental sustainability leaders from all over Canada came together in Ottawa for the Federation of Canadian Municipalities' Sustainable Communities Conference. Held in the conference rooms of the Westin Hotel, eight panels from SGI's exhibition, "Seeds of Hope" were featured at the entrance to the conference and were enjoyed by over 350 Canadian mayors, council members and municipal staff.
Sophie, from Montreal, said, "I cried reading the panels, they were so inspiring."
Li, from Vancouver, loved the beautiful messages for change reflected in the quotes of thinkers and activists from all over the world.