SGI Canada Leaders Visit Winnipeg
By Craig Harris, Winnipeg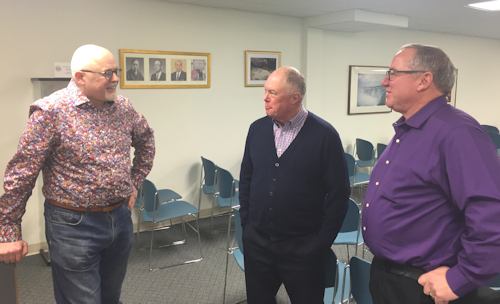 Tony Meers (centre) and Ian Mattinson (right) meet with Winnipeg practitioner

On January 31, SGI Canada leaders General Director Tony Meers and Men's Leader Ian Mattinson arrived in Winnipeg with the purpose of meeting one-on-one with the young men and men's group practitioners.
On their arrival, one young man was able to have a good discussion with both of them at the airport before they visited with a family and another young man.
The face-to-face visits continued throughout the next two days despite of the extreme arctic chill that had enveloped Winnipeg at that time. In some cases it was renewing old acquaintances and in others establishing new friendships. As a result of everyone's sincere efforts, we all felt encouraged by the warmth and humanity of our leaders who cared deeply about our happiness. This concerted effort to reach out to many men and young men was deeply appreciated and we all felt SGI President Ikeda's compassion being expressed through the oneness of mentor and disciple that our leaders quietly and confidently embodied.
On Sunday morning, Winnipeg practitioners and guests braved the bitter cold to attend the monthly World Peace meeting at the SGI Canada Winnipeg Centre. Three members from Thompson also joined the meeting by video conferencing.
Following a dynamic chanting session led by Tony, the appointment of two youth leaders and three women's group leaders was announced. This was followed by a conferral of Gohonzon and two moving experiences of faith that demonstrated actual proof of Nichiren Buddhism.
Everyone listened eagerly as Tony encouraged everyone to build deep bonds of friendship with our friends in faith and care for them so they can create a solid foundation in their faith, practice and study. Afterwards, the centre was filled with many happy voices engaged in animated exchanges. It was a most uplifting weekend, appreciated by all.