SGI Canada Youth Reaffirming Their Vow
By Yoko Feinman, Ottawa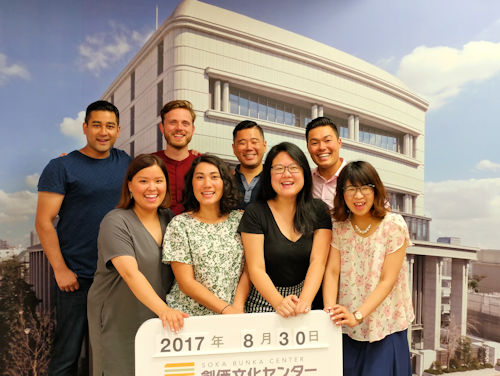 This year 280 youth leaders from 55 countries and territories attended the SGI Youth Training Course in Tokyo, Japan from August 30 - September 5. Eight youth from across Canada were able to participate on behalf of all the members in SGI Canada. Our week together was full of meaningful guidance and tours, study lectures, Q & A with top Soka Gakkai leaders, youth exchanges and one-on-one personal guidance sessions.
On the first day, we were warmly greeted by Soka Gakkai Youth Division Leader, Mr. Mitsushiro Takeoka and Soka Gakkai Vice Young Women's Leader Ms. Eiko Kitazume. Mr. Takeoka shared that many young people feel that the tide of society is against them. However, in this Buddhism, we can transform absolutely anything and offer this same hope to those in need. He said, "to decide that you can change is Myoho. The Mystic Law means you can change, you will change."
At the Youth Training Course opening ceremony, the participants received a message from SGI President Ikeda, in which he encouraged us to develop our capacity to care for the person right in front of us. In his message he said, "...what is paramount is that we pray for, encourage and spare no effort in inspiring and empowering that one person before us, whoever that may be." This message reverberated throughout the week with many leaders, including Soka Gakkai President Mr. Minoru Harada, reminding us in a Q&A session that the only way we can share the spirit to dynamically expand our movement and carry President Ikeda's vow as our own is through one-on-one home visits with members and personal guidance and that we must chant and make steady efforts to encourage, not just one person to take 100 steps, but 100 people to take one step.
This year, 2017 marks the 70th anniversary of SGI President Daisaku Ikeda taking faith and meeting his mentor, Josei Toda, as well as the 60th anniversary of second Soka Gakkai President Josei Toda's declaration against the use of nuclear weapons. We commemorated these significant events by visiting Mitsuzawa Stadium, where Toda made his strict declaration condemning the evil that gives birth to nuclear weapons. A select number of SGI youth leaders, including SGI Canada Young Men's Leader, Ryan Brouwer, participated in the SGI Youth Summit for the Renunciation of War.
In President Ikeda's opening ceremony message he also quoted Nichiren Daishonin from a Gosho passage written to his youthful disciple, Nanjo Tokimitsu, "My wish is that all my disciples make a great vow…" The youth training course served as an opportunity for all of us participants from around the world to reaffirm our vow to continue to fight alongside President Ikeda in creating a world where each individual is treasured and respected, starting right where we are, as we are.
Impressions
I was very fortunate to be able to attend this training course. I feel fully charged to work alongside my fellow SGI Canada members and enjoying this journey toward achieving 10,000 practitioners! I am very proud to be part of an organization that directly contributes to the wellbeing of our society and having a mentor in faith that believes in each of our limitless potential! A. Ghoshal, Vancouver
This, my first ever youth training course, was life changing. Every day inspired in me new feelings of gratitude, realization, self-awareness, determination and solidarity with my fellow youth from around the world. President Ikeda sent us daily messages as he followed our movements closely from reports he received. His constant prayers and limitless confidence in our ability to shoulder kosen-rufu infused each day with vitality and appreciation. On this trip I feel I was able to transform from a disciple who needs their mentor's protection to a disciple who can protect their mentor and his legacy by striving to share this humanistic philosophy to those who are seeking Buddhism and suffering. Y. Feinman, Ottawa
This training course has been amazing. I received a lot of encouragement from the leaders in Japan. Now I feel even more confident surer of the responsibility and mission to reply back to President Ikeda and enable all the youth of Toronto and Canada to stand up alongside our mentor and win in all aspects of their lives. C. Sunagawa, Toronto
I was deeply moved by the sincere behaviour of the Soka Gakkai members and staff. Through them I came to more fully understand and appreciate the profound spirit of compassion of President Ikeda. R. Brouwer, Montreal
I felt that all the youth leaders from around the world were in rhythm in terms of wanting to connect with one another, learn from each other and share their goals toward November 18, 2018. We often use the term worldwide kosen-rufu, but for the first time, I really felt that we are actualizing this grand vision of both President Toda and President Ikeda. The unity of many in body, one in mind was definitely strengthened throughout the training course. I really feel that now is the time to unite around our mentor and advance worldwide kosen-rufu together with our comrades from around the world! I am determined to become a person with a deep sense of appreciation and compassion. I will enable more people to have a connection with President Ikeda and the practice. M. Ogushi, Toronto
As it was my first time in Japan I was overwhelmed by everything that I encountered. I was able to deepen my faith through activities, President Ikeda's sincere and heartfelt encouragement, supporting staff and local practitioners. I made a vow to my mentor with a strong determination to fight with a mind of shared struggle and to pave the way for worldwide kosen-rufu in SGI Canada. N. Shinoki, Vancouver
I felt that this training course was a significant one both for myself personally, as well as for SGI Canada. In order to achieve our goal of 10,000 practitioners, I have solidified my personal determination toward this goal. This training course opened up my life to resolve more than ever to stand together with President Ikeda for the sake of each person's happiness. I made a vow to accomplish this right where I am. I am determined to help each friend break through and transform their life with this practice so they too can stand with President Ikeda and share our wonderful philosophy for the happiness of all humanity. A. Meers, Toronto