SGI Montreal Youth Participate in the Indian Festival of Holi
By Jeff Deeprose, Montreal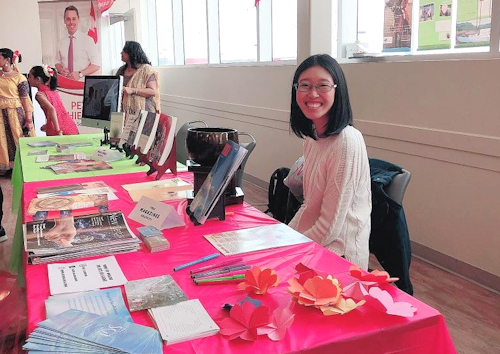 SGI Montreal youth member at the SGI presentation table

On March 24, SGI Montreal was invited by the Indo-Canadian Organization of Montreal (ICOM) to celebrate the colourful and dynamic Indian festival, Holi, in Vaudreuil-Dorion, a suburb of Montreal.

The Holi festival celebrates the victory of good over evil, the arrival of spring and the end of winter.
The three-hour event featured kiosks that showcased various aspects of Indian culture. SGI Montreal youth presented the Buddhist perspective through video, books and pamphlets, and several panels of the "Seeds of Hope" exhibition.
At the start of the event, we sowed the seeds of Buddhism in everyone's hearts by chanting for one minute with all the participants. Most important of all, we had the chance to speak with many people about SGI. Some showed keen interest in SGI and we were able to connect them with the local members.

More than 300 people attended the event. Several elected representatives were also present, including the Mayor of Vaudreuil-Dorion, Mr. Guy Pilon, and two advisors from the town, Ms. Diane Morin and Ms. Josée Clément. The local Federal MP, Mr. Peter Schiefke, the Provincial MNA, Ms. Marie-Claude Nichols, and the Mayor of the neighbouring town, Pincourt, Mr. Yvan Cardinal, were also present.
Overall, it was a very joyful experience to present SGI and make new bonds.