Students Emerge to Break Through
By Casey Ng and Alex Meers, Toronto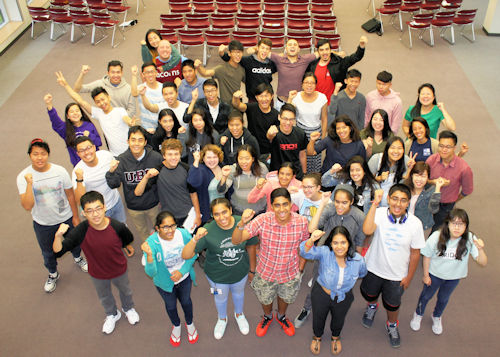 On a rainy August 17, 47 students with seeking spirits gathered at the SGI Canada Caledon Centre for Culture and Education to kick off the High School and Student Group Conference. Each heart, having travelled far and long, was warmed by the welcoming beacon of the centre and staff and a delicious dinner.
This year's conference theme was "Emerge!", representing each person's ability to break through and reveal their full potential. During the conference, participants developed life-long friendships and learned about various Buddhist concepts. Some of the sessions included President Ikeda's guidance for students from Discussions on Youth, a Q&A with SGI Canada General Director Tony Meers, introducing others to the practice and sharing personal experiences.
The students also enjoyed fun activities both inside and outdoors to accomplish different team challenges. During culture night, many students showcased their musical talents, performed magic tricks and shared experiences. The young women students and young men students also expressed their respect for each other by singing Beyoncé songs to each other.
The students took to heart President Ikeda's message to the participants, brimming with hope and trust in us as he said that each of us has the great mission to strongly lead and further expand the humanistic movement of Soka.
The students initiated an united chanting session for the cause to bring the high energy of the conference back to their respective districts.
Impressions
The positive atmosphere is very welcoming. This is my first time coming to an SGI meeting and everyone is amazing. The faculty and staff are great. Thank you for your efforts. I. Hua, Calgary
I love how I was able to learn of many experiences that I would never have imagined. I feel closer and more united with everyone. I really liked that the activities were facilitated by the leaders and that we were able to explore the natural surroundings. I was able to learn and take home something really important in my heart. I hope to come back again next year. Thank you for everything. E. Fujimoto, Ottawa
My impression on this conference would be rated 10 out of 10. I liked the planned activities and delightful atmosphere. Everyone was happy and approachable. J. Choi, Toronto
The atmosphere was fantastic. People are so friendly and it's so energizing to be surrounded by like-minded youth championing kosen-rufu! My own goal was to deepen my faith and I feel I accomplished that. Thank you for an amazing weekend! S. Theocharides, Kingston
The atmosphere provides an environment where students can feel inspired and motivated. I value every experience and every piece of guidance. The conference is ultimately a place for me to improve and deepen my faith in the practice. A. Takeda, Toronto
This student conference is amazing and so inspiring. I want to come back next year to inspire everyone. K. Naito, Vancouver
Every conference I've been to inspires me to dream bigger, treasure those around me and never give up. We all have our own struggles but we are never alone. I feel so happy to be at the Caledon Centre where I feel so close at heart with President Ikeda and our SGI family. O. Ham, Edmonton
This conference I was able to learn and implement my knowledge to help others. I liked the session using physical activity along with Buddhist concepts. The skit-making helped with how to gain wisdom from my knowledge. Thank you so much for organizing! M. Fujimoto, Calgary
This conference has helped me change my perspective on some of the things that have been happening in my life. It has opened my heart. I have a new determination and a new attitude to handle these situations. H. Lai, Vancouver
I was looking forward to this conference all summer and it was more than what I expected. I felt just as excited as the first one I attended in 2014. Thank you to the organizers. A. Liu, Vancouver