Transforming Lives Exhibition Displayed at Guelph-Humber
By Paul Sherman, Toronto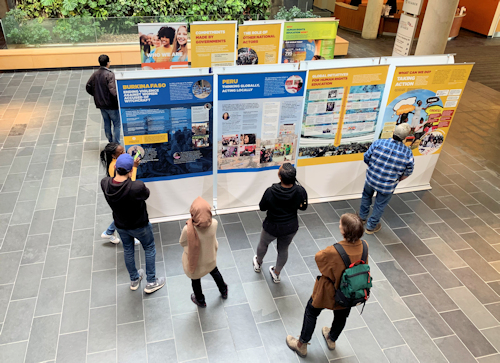 "Transforming Lives: The Power of Human Rights Education"
exhibition displayed at the University of Guelph-Humber

The University of Guelph-Humber in Toronto welcomed the "Transforming Lives: The Power of Human Rights Education" panel exhibition to its campus during the week of March 25, 2019. The exhibition was displayed in the university's main atrium space, which is accessed by all students, staff, and faculty of the university community.
The university has also welcomed a number of other SGI exhibitions to campus in recent years, such as the: "Gandhi, King, Ikeda: A Legacy of Building Peace", "Seeds of Hope", "Victory Over Violence", and "Building a Culture of Peace for the Children of the World".
The exhibition was presented in conjunction with Professor Paul Sherman's course on Global Citizenship. Students in Professor Sherman's class were given an assignment to reflect on their key impressions from the exhibition.
Following are some reflections:
My main takeaway from the Transforming Lives exhibit is the importance of educating people on human rights. Though building a culture of human rights it is possible that society moves closer to being one that is accepting of everyone from different backgrounds.
My main take-away from the Transforming Lives exhibit is that human rights need to be respected globally. As individuals we need to remain informed and take action on these issues. Every individual has the ability to make impact.
I am really glad the rest of the U of GH student body got a chance to be informed on the same issues we have been discussing all semester and maybe have their eyes opened a little more to what is going on in the world. I know that the friends I brought with me were really appreciative afterwards.
I thought that the Transforming Lives exhibit was really great. It was very informative and it was a great idea to have it set up in our school setting. The main take away for me was the strong reminder that even though here in Canada we are so fortunate, there are still so many places around the globe that have a long way to go when it comes to human rights.
My main take away from the Transforming Lives exhibition is that it was brought to our attention to raise awareness of world issues that are impacting the daily lives of humans and society. It mainly focuses on the values of dignity, respect, inclusion, and equality, and what we can do as global citizens to take action on global issues.