Université Laval Project Highlights SGI President Ikeda's Philosophy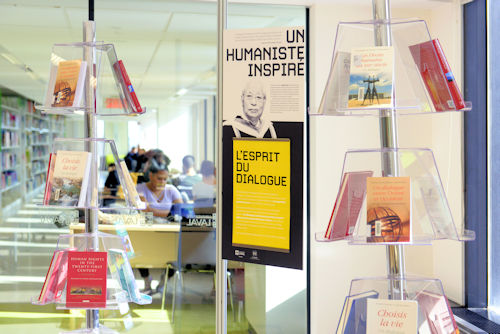 A selection of SGI President Daisaku Ikeda's donated books were displayed for the book donation ceremony at the Université Laval Library

On February 28, a ceremony was held at the Université Laval Library in which 150 volumes of SGI President Ikeda's works in French and English were donated to the library inaugurating a new project, the first of its kind in Canada.
To highlight Daisaku Ikeda's writings, Université Laval will dedicate a special area in the Human and Social Sciences Library, located in the Jean-Charles-Bonenfant building. The aim of the project is to create an open space devoted to President Ikeda's writings that will serve as an incubator for learning.
In this area reflecting the spirit and energy of Daisaku Ikeda's writings, Laval's innovative and forward-looking librarians will create an environment where education knows no bounds.
This quiet area will encourage self-reflection, critical thinking, and interaction with a view to empowering people to effect positive global change.
The three-year program includes the following elements:
Students will have access to Mr. Ikeda's books
Mr. Ikeda's books will be featured in the New Book & Acquisition area on the fourth floor of the Library during special events
Three weeks of events twice a year based on Mr. Ikeda's philosophy of education
The ceremony began with speeches by University Librarian Loubna Ghaouti, Vice-Rector Claude Savard and Faculty of Education Dean Fernand Gervais, followed by a message from President Ikeda read by SGI Canada General Director Tony Meers and a presentation by Professor Vincent Fauque on President Ikeda's use of dialogue to open the way to universal understanding and peace.
This event is the third major initiative at Université Laval. The first was the conferral of an honorary doctorate on SGI President Ikeda at Soka University on May 4, 2010 by (former) Rector Denis Brière. The second was the Makiguchi Educational Leadership Chair in Teaching and Learning in Higher Education, established on October 23, 2014, followed by Rector Brière leading a delegation to Japan and receiving an honorary doctorate from Soka University.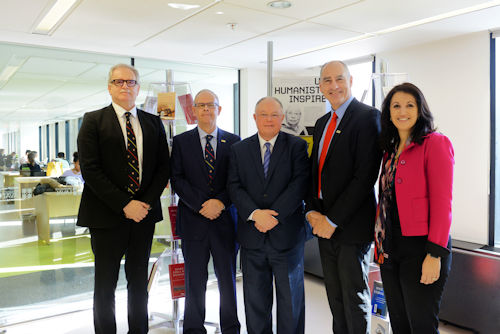 From left: Dean Fernand Gervais, Professor Vincent Fauque, SGI Canada General Director Tony Meers, Vice-Rector Claude Savard, and Université Laval Librarian Loubna Ghaouti

Interest in value-creating education is expanding in Canada, led by the initiatives of Canada's first university, Université Laval.
Vice-Rector Savard, representing the Laval's Rector Sophie D'Amours, was very pleased and honoured to receive this collection of books saying that the work of Mr. Ikeda illustrates his profound conviction that education remains the most important pursuit for humanity, a conviction shared by Université Laval.
University Librarian Loubna Ghaouti said:
"Thanks to this book donation, Université Laval's library is now the institution offering the largest collection of Daisaku Ikeda writing in French. This allows our entire community to have access to the work and thought of this great humanist."
"Through its mission to support teaching, studies and research, Université Laval's library is a key player in the development and dissemination of knowledge. No doubt this donation is part of this mission. It is also part of our profound desire to make the library a scholarly space, an open space, a space where all cultures meet. We are honoured to be able to contribute to the dissemination of Dr. Ikeda's deep conviction that education is the most important endeavour of humanity. A certainty that we can only share. We thank the Soka Gakkai International Association of Canada for its generosity and its commitment to education."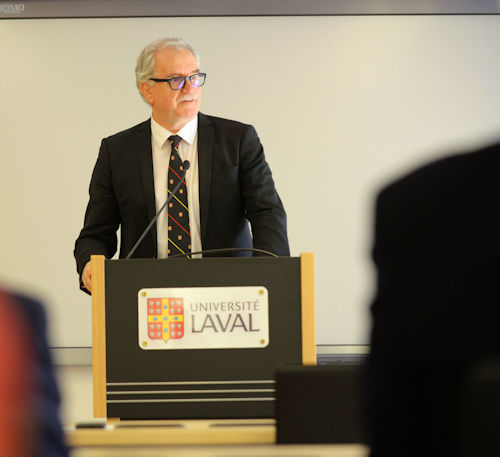 Dr. Fernand Gervais, Dean of the Faculty of Education, speaks at the ceremony

Paul Sherman, PhD, University of Guelph Humber commented:
"The book donation event at Université Laval was a very joyful occasion that further strengthened the friendship and academic relationship between the university and SGI. The hosts were extremely grateful for this book donation of President Ikeda's writings and dialogues that will provide opportunities for their students and faculty to understand President Ikeda's and other world leaders' visions for achieving a more harmonious and sustainable world."
Masami Gauvin, representing the Québec-Japan Friendship Association said:
"I was honoured to be invited to the donation recognition ceremony. As one of its graduates, I am very pleased with this contribution to Université Laval which is the oldest French university in North America. Surely many French Canadians will profit of this contribution. We appreciate your efforts that will support Quebec society."