White Lily Group of Canada Celebration
By Helen Izumi-Choi and Esther Lipton, Toronto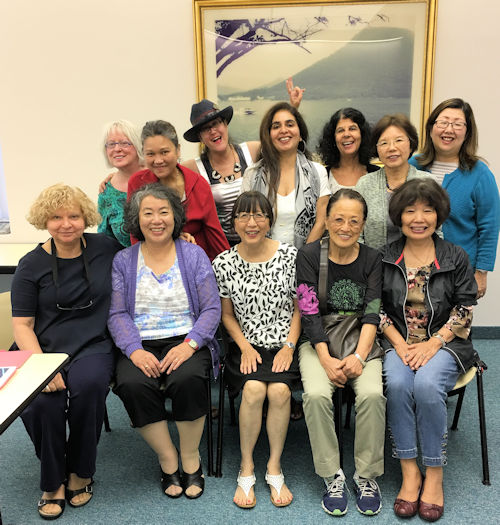 Central Region White Lily Group members at the meeting in Toronto

Each White Lily Group practitioner is proud and happy to take on the responsibility of representing SGI President Ikeda and Mrs. Ikeda when we welcome everyone who visits our SGI Canada centres. This is truly a great honour and spirit behind our activity.
June is a month with many anniversaries to celebrate - June 10, 1951 is the founding day of the Women's Division; President Ikeda's visit to Toronto in 1981 and the 30th anniversary of the poem "A Rainbow over Niagara". The White Lily Group of Canada made this time a celebration to deeply appreciate our mentor, President Ikeda and strive to do much more for the kosen-rufu movement for world peace.
Vancouver had a general meeting for the White Lily group on June 17 with representation from seven areas including practitioners who are interested in joining the group. Western Region Women's Leader Marilyn Clarke said: "White Lily may be behind the scenes, but the experiences and benefits in participating in White Lily certainly aren't. We are determined to help everyone be given the opportunity to participate in this activity."
Left: Edmonton, Right: Vancouver

Toronto held their gathering on June 21, which is also the day President Ikeda and Mrs. Ikeda arrived in Toronto 36 years ago. This was of special significance as we shared our history and achievements in Canada together with SGI Canada Senior Advisor Elizabeth Izumi who was instrumental in leading SGI Canada at the time..
The following message was sent to the White Lily Group of Canada:
We send our warmest greetings as you gather in high spirits at your White Lily Group General Meeting. We deeply appreciate your sincere, ongoing efforts to participate in the White Lily activity despite your busy schedules.
Your bright, smiling faces welcome everyone to our SGI Canada centres. Your sunny presence acts like a light of hope for all those who come through our doors. You are truly "ambassadors of happiness," striving one in heart with our mentor.
SGI President Ikeda said: "Soka Gakkai centres are palaces of hope and happiness, great bastions of peace and culture…They are wonderful places where we open the way to eternal happiness. Their presence contributes to the flourishing of their local communities." (July 2017, New Century, p. 24)
In the 1950s when Josei Toda's businesses were experiencing severe financial troubles, a youthful Daisaku Ikeda promised his mentor: "Please rest assured. I will build magnificent citadels for kosen-rufu throughout Japan and around the world!" How moving it is to know about the starting point of our SGI centres!
President Ikeda is endlessly grateful to the members who work behind the scenes to support and protect SGI centres throughout the four seasons. He said: "As a result of the boundless 'unseen virtue' they are accumulating, they are absolutely certain to enjoy immeasurable 'visible reward.'" (July 2017, New Century, p. 24)
As we celebrate the 30th anniversary of "A Rainbow over Niagara" this month, let's remind ourselves of this eternal guideline:
You who are steadfast in fulfilling your own missions,
Striving for the attainment of "the great desire"—
You are truly crowned champions of kosen-rufu.
To you I would like to accord
My highest tribute:
"My genuine comrades,
The pillars of kosen-rufu in Canada."
As White Lily Group members, you possess a noble mission of which you can be so proud. You are creating eternal treasures of the heart. Thank you very much again for your earnest efforts! Please take care to be accident-free and take good care of your health. We are sending daimoku to you with our profound gratitude."