Keeping My Joy Alive
August 1, 2018
By Paula Reich, Edmonton
Prairie Region Women's Leader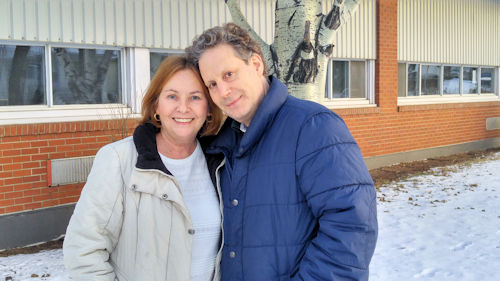 Paula with her husband, Paul


I have been practising Nichiren Buddhism for 42 years. I have received countless benefits from my Buddhist practice and I would like to share some of them with you.
I was introduced to Nichiren Buddhism in 1974 by a fellow dancer when I was apprenticing for the dance troupe, Les Grands Ballets Canadiens. At that time I was living in Montreal. In the beginning, I chanted by myself. Chanting Nam-myoho-renge-kyo made me feel excited about living. I felt that this practice was what had been missing from my life. Early in 1975, I connected with the SGI organization, and on April 13, 43 years ago, I received my Gohonzon.
A few months later, I was offered a full-time contract with a ballet company in Alberta, far away from my home. When I realized there was not a single SGI practitioner in Edmonton, and that the closest members were a three-hour drive away, I was disappointed. Then, after a few months in my new city, the joy I felt from chanting began to diminish. One night I chanted with the feeling that if my excitement in the practice did not come back, I was going to quit.
The very next day, after morning rehearsals, two young men from Calgary walked into the studio and asked me if there was someone in the company who chanted. Without knowing my name or contact information, other than (maybe) where I worked, these two young men had made the three-hour drive to Edmonton because someone had told them there might be a young woman who had started chanting in Montreal who was now dancing with the Alberta Ballet Company.
Of course I said it was me. The next day, we had our first meeting in Edmonton. I invited six of my friends and they all came. Three of them started chanting and received Gohonzon a short time later. This was the beginning of my not just practising for myself, but helping and encouraging others. This became the prime point of keeping my joy alive and the beginning of my human revolution.
In the early years of my Buddhist practice we were all young and suffering from many problems. I was in a very frightening and lonely marriage. When I drove home at night after work or activities I would often encourage myself by singing the song written by Daisaku Ikeda, "The Song of Human Revolution." My favourite Gosho quote at the time was, "Let the gods forsake me. Let all persecutions assail me. Still I will give my life for the sake of the Law" (WND-1, p. 280).
After 12 years, I was able to change my karma, divorce my first husband, and marry a wonderful man who feels a strong sense of mission for kosen-rufu, treats me with respect, and is my best friend. I have also gone through incredibly harsh struggles with my health. I started to suffer poor health at the age of 23. By the time I was in my early 30s, I had a hysterectomy and a serious eye disease that was treated and overcome over the years. My health still worsened. Doctors could never find out what was wrong with me.
By the time I was 44, I was diagnosed with a pheochromocytoma, a rare adrenal tumour. After a complicated surgery, I finally felt fully healthy as I had not for years. The amazing thing was while I was ill, due to the power of daimoku, I was still able to dance professionally, direct a ballet company with my husband, and teach young dancers. I was also able to work hard in the SGI no matter what I was going through. I was told that this tumour could have caused a stroke or a heart attack anytime during those 20 years.
Five years ago I was diagnosed with Crohn's disease, which has responded well to medication. Then, I started having problems with my gait and experienced difficulty walking. Once again, the doctors could not find the cause. I had to use a cane. I had the feeling that my connection to the ground was deteriorating. I also felt very tired. The specialists knew that something was wrong, but nothing showed up on any X-ray. It was very hard for me, especially having been such a physical person. Since I started this practice, I had always done my best to fulfill my responsibilities every single day as a practitioner and as a leader. I continued to do my best.
In October 2015, SGI General Director Yoshitaka Oba and SGI Women's Leader Yumiko Kasanuki visited Toronto on the occasion of the 55th anniversary of President Ikeda's first visit to Canada. I was able to attend a meeting with Canada's national and regional women's leaders. Mrs. Kasanuki spoke to each of us. When she spoke to me, she said, "The most important thing for a person to understand in order to regain their health is to have a strong determination to get better." She told me, "When you chant, first chant for Sensei and Mrs. Ikeda's health, then chant for the Canadian members, and then for yourself. When you get better, you should come back to Japan."
One year later, I went for a routine mammography and a few days later I found out that I had breast cancer. The cancer was removed successfully and then an amazing thing happened. After a few months of radiation, my walking started to improve. Incredibly, my doctor and neurologist realized that my gait disorder was caused by a paraneoplastic neurological syndrome. They explained that sometimes a person's own body will attack the presence of cancer cells and cause other unrelated problems. In my case, antibodies had attacked my nervous system. My walking is now 90 per cent better. I was able to go to Japan in April 2017 and report my victory to Mrs. Kasanuki and also share my experience at an exchange meeting.
Sometimes, we don't understand why some wishes never happen. I wanted to have a child and could not. Last year, I found out that if I had become pregnant in my 30s, there would have been a 50 per cent chance that I or the baby would have died during the delivery because of the adrenal tumour. The protective forces of the universe had been protecting me all along. I am so grateful to be able to practise this Buddhism and to have the voices and words of Nichiren Daishonin and President Ikeda in my heart every day. It is true that my sufferings have turned into joy.
On November 30, 2014, we opened our own beautiful SGI Canada centre in Edmonton. I was so touched to learn that President Ikeda and Mrs. Ikeda expressed their great happiness on seeing the Seikyo Shimbun article about the opening of the centre in Edmonton. They even sent us a personal message conveying their congratulations and best wishes to the members in Edmonton. In his message, President Ikeda quoted Nichiren Daishonin: "Birds that approach Mount Sumeru turn golden-hued" (WND-2, p. 671). I often think of this quote when I enter our beautiful centre.
I am currently the SGI Canada women's regional leader for Prairie Region. Prairie Region consists of our three vast provinces, Manitoba, Saskatchewan and Alberta. I also help take care of members in the Yukon Territory in Canada's far north where there's a group called Galloping Horse in Whitehorse. In November 2016, my husband and I travelled to Whitehorse to encourage the members. It is a two-and-a-half hour flight from Edmonton to Whitehorse, and during the flight, I was able to share our Buddhist practice with two young men. All the Prairie Region members are sincerely striving to share Nichiren Buddhism in society.
This world is full of misery. For this reason, I am determined to overcome my weaknesses and to help spread this teaching. In Canada, and in the Prairies, our SGI youth are working very hard to spread Nichiren Buddhism. They are encouraging us to introduce our friends and family. They are definitely the leaders of the future. In Canada, we are striving to attain our goal of 10,000 members by November 18, 2018. This is only a start. We look forward to advancing together with practitioners all over the world, and with President Ikeda and Mrs. Ikeda, to accomplish the great worldwide expansion of our SGI kosen-rufu movement.
(Published in March 2018 New Century)