Chinese Language Conference Great Success
By Eddie Law, Toronto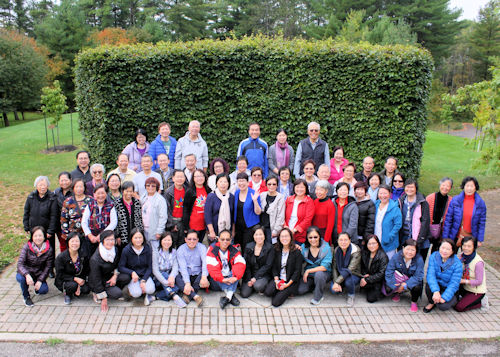 From October 5-8, the Chinese Language Caledon Conference was a great success with a full house of 62 attending and a significant number of first time participants. There were 22 participants from outside Ontario including British Columbia, the Prairies and Atlantic provinces. Many of them shared their determination to come back next year.
SGI President Daisaku Ikeda sent a message where he encouraged each participant to first chant Nam-myoho-renge-kyo when challenges arise. He also encouraged each participant to unite together with him to lead noble lives of victory and glory to the very end and to advance in unity.

Under the conference theme, "Expanding a Network of Happiness Through Dialogue", the participants studied Nichiren Daishonin's letter "On Establishing the Correct Teaching for the Peace of the Land," which outlines the significance of sharing our practice with our friends and in society. There were also small group discussions about kosen-rufu and world peace with emphasis on each person's unique mission in using their Buddhist practice.

The conference wrapped up with a very exciting culture night. On the last day, everyone vowed to advance kosen-rufu and share their practice with more people.