Everything You Treasure at University of Manitoba
By Susan Fonseca,Winnipeg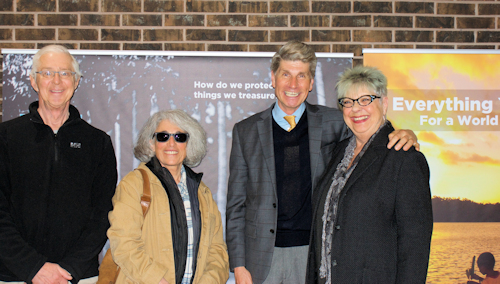 Dr. Black-Branch (2nd from right) with Winnipeg practitioners

Robson Hall, the University of Manitoba Faculty of Law, hosted the exhibition "Everything You Treasure – For a World Free from Nuclear Weapons" in their main hall beginning from March 28 to April 5.
On April 2 , Dr. Jonathan Black-Branch, Dean of Law, gave a talk related to the display titled "Security, Defence and the Threat of Nuclear Weapons: The Future of Human Rights and Security." Dr. Black-Branch is Chairman of the International Law Association Committee on Nuclear Weapons, Non-Proliferation and Contemporary International Law amongst his numerous activities in many other areas of nuclear non-proliferation.
On April 2, several Winnipeg SGI practitioners, including myself, viewed the exhibition and attended Dr. Black-Branch's talk.
The display had a powerful impact on us as we learned about the history of nuclear weapons and their destruction through words and images. One participant was amazed at the amount of money spent on nuclear weapons instead of what that money could do to heal our world. We also learned of the number of nuclear weapons held by specific countries in our world. We were so proud to be part of SGI who is a co-creator of this exhibit with ICAN, the International Campaign to Abolish Nuclear Weapons.
The highlight of the day was attending Dr. Black-Branch's talk. Before he spoke the emcee credited the SGI for bringing the exhibition to Robson Hall. The emcee added that the exhibition commemorates the 55th anniversary of second Soka Gakkai President Josei Toda's 1957 declaration calling for the abolition of nuclear weapons.
Dr. Black-Branch spoke passionately indicating that nuclear weapons are a threat to peace and expressed that this was the most important issue facing our world at this time. "Nuclear weapons don't protect peace, they threaten peace." He reminded us that so many of these issues are not discussed when they absolutely should be at the forefront of dialogues for the health and the peace of our future.
Following his presentation, Dr. Black-Branch expressed his great appreciation to SGI for sharing this exhibition stating that he would like to see it displayed at many other campuses. He volunteered that he would be delighted to speak on this topic at any time.