SGI Canada Online News
The SGI Canada Online News contains articles and reports about SGI activities happening across Canada. Stories are published on a monthly basis.
Subscribers to the news will receive notifications when current news are up. SUBSCRIBE
January 2019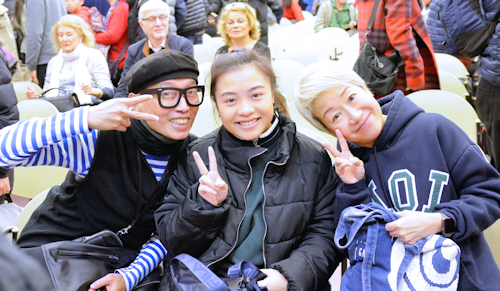 On January 1, SGI Canada celebrated 2019 designated as the "Year of Soka Victory—Toward Our 90th Anniversary," in many cities across the country.
December 2018

From November 12-20, eight SGI Canada leaders attended the SGI Autumn Training Course in Tokyo. The training course hosted 300 SGI members from 70 countries.

On November 21, Dr. Jason Goulah, Associate Professor at DePaul University, Chicago, recently visited Toronto to deliver two presentations about his scholarly research on Soka Education and Daisaku Ikeda studies.

During the month of November, hundreds of SGI Canada district meetings from Halifax to Victoria celebrated the 88th anniversary of the founding of the Soka Gakkai.

SGI Canada mounted the exhibition "Transforming Lives: The Power of Human Rights Education" at The Parliament of the World's Religions conference held in Toronto from November 2 to 6.

From November 16-19, eight representative leaders from SGI Canada participated in the North America and Oceania Study Conference held at the Florida Nature & Culture Centre (FNCC).

Saskatoon's Prairie Oasis District received a dose of inspiration when Chris Eddy and Richard Lim came from Calgary to join us at our District General Meeting on November 25.
November 2018

On November 4, Winnipeg District leaders David and Stella Gower drove nine hours to Thompson Manitoba to welcome two new members to our SGI Canada family.

On October 15, Val Innes and Cyndia Cole presented their slideshow that honours the life of pioneer SGI Canada member Kuniko Uyeno at Vancouver's Holy Family Residence.

From October 18-21, a total of 62 men gathered for the Men's Group Caledon Conference at the SGI Canada Caledon Centre for Culture and Education.

From October 26 to 28, Atlantic Area received three visiting region leaders. Eastern Region leaders Monica Bachmann and Koichi Paxton visited three cities in New Brunswick and Dwight Rudisuela visited Halifax.
October 2018

On September 30, SGI Canada practitioners celebrated the 25th anniversary of SGI President Daisaku Ikeda's visit to Montreal and Vancouver in 1993.

As November fast approaches, our determination to share this Buddhism with others wells up as we strive to achieve our goal of 10,000 happy practitioners in SGI Canada. Our efforts to achieve kosen-rufu in Canada are an expression of our gratitude to our mentor, Daisaku Ikeda.

On September 20-23, the Young Women's and Women's group conference was held at the Caledon Centre for Culture and Education. Practitioners and guests gathered from across Canada, some of whom had been practising for decades while others attended for the first time and were new to the practice.

From the end of August and into September, the men in SGI Canada held their annual general meetings that coincided with August 24, 1947, the day when SGI President Daisaku Ikeda joined the Soka Gakkai in Japan.

On September 28, SGI Canada brought together 50 Ottawa high school students to square off against atomic bombs as part of "Youth For Nuclear Disarmament Day."
September 2018

August 16 marked the beginning of a summer ritual of attending the High School and Student Group Caledon conference for sixty-two youth from across the country. Upon arrival, students were greeted by the behind-the-scenes crew and the vibrant, exploding energy of everyone's Caledon-Conference spirit!
August 2018

From July 2-9, SGI Canada sent eight participants to the Summer SGI Training Course in Japan. As one participant said, "I felt as though each day was part of a process of intense personal transformation."

Showered by warm sunlight and clear blue skies, 24 families comprising of 31 children and 31 parents joyfully attended this year's Family Caledon Conference from July 6-8 in high spirits.

The Caledon Centre for Culture and Education was the site of a remarkable conference from July 19-22 as the French speaking members gathered under the theme "Nos brillantes réalisations éternelles !" .

From August 2-5, SGI Canada members from Vancouver to New Brunswick met for the 8th annual Educator's Conference at the Caledon Centre for Culture and Education.
July 2018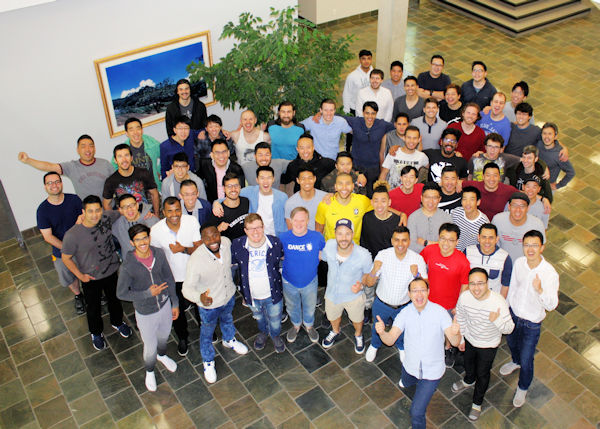 On June 7-10, young men from across Canada joined the final Young Men's Caledon Conference in high spirits.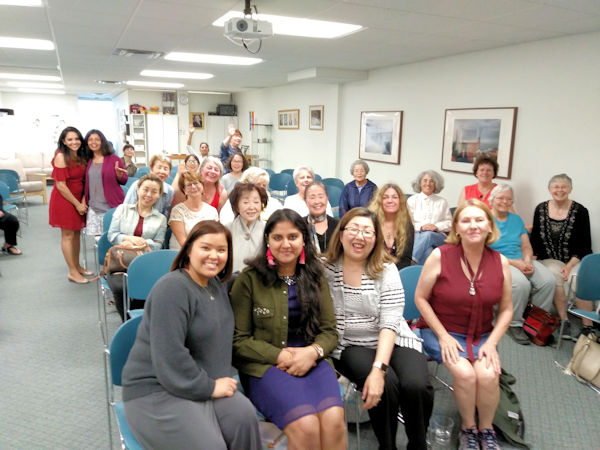 From June 1-11, SGI Canada Women's leader Helen Izumi-Choi and SGI Canada Young Women's Leader Mai Ogushi were joined by Prairie Region Women's Leader Paula Reich for an 11-day visit of five Prairie Region cities: Regina, Calgary, Saskatoon, Winnipeg and Edmonton.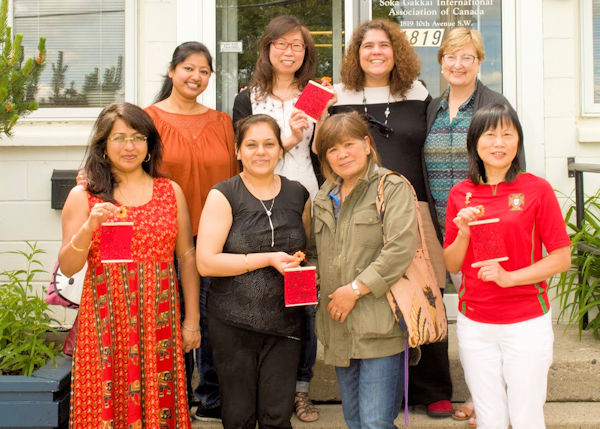 The name White Lily Group of Canada was given to those women who warmly greet all who come to the SGI Canada centres.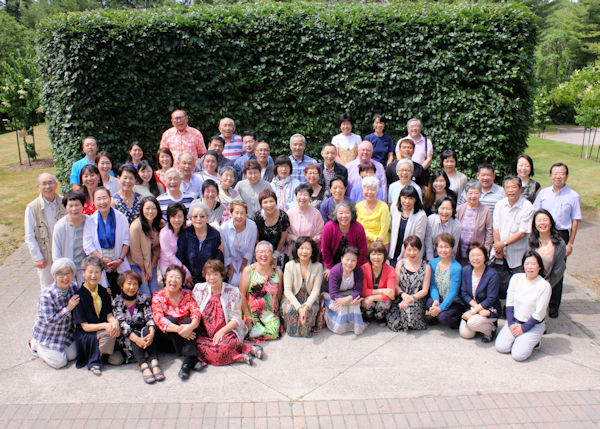 The Japanese Language Caledon Conference was held from June 21-24 with 61 participants. The successful and inspiring conference included all age groups from those in their early 20s up to one participant who was 89.
June 2018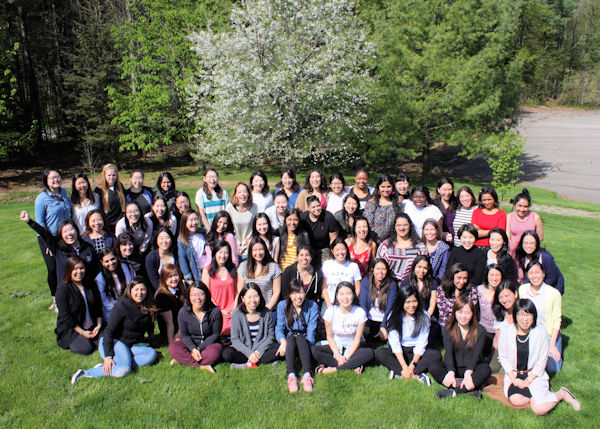 On May 17-20, 60 young women attended the Young Women's Group Caledon Conference, representing every region of Canada. It was truly a successful conference with 20 participating for the first time.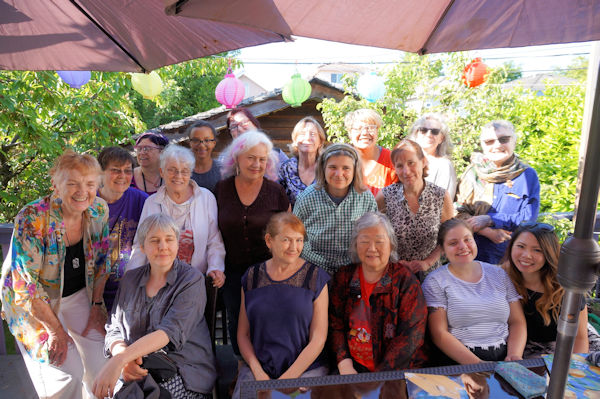 Throughout the month of May, the women of SGI Canada held general meetings in the various districts throughout the country.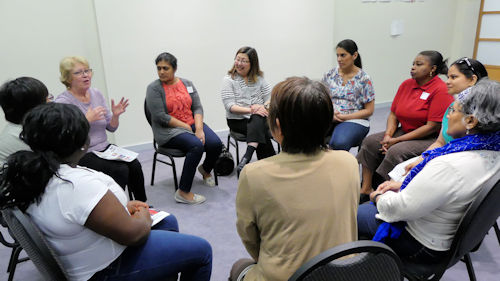 Based on the success of the conferences we have had over the years at the Caledon Centre for Culture and Education, the women's and young women's groups in Calgary created a locally based "Caledon" conference this year.
May 2018

SGI Canada commemorated May 3rd Soka Gakkai Day and Soka Gakkai Mothers Day in cheerfulness and high spirits on May 6 throughout the country.

SGI practitioner, residential school survivor, and award-winning Cree author Larry Loyie (1933-2016) has been honoured at UBC's new Indian Residential School History and Dialogue Centre with the Loyie Brissenden Archives.

Sixty- two women attended the Women's Group Conference at the SGI Canada Caledon Centre for Culture and Education from April 19-22. Of these, 20 women were attending their first Caledon Conference.

Kuniko Uyeno has lived with happiness and hope for over 50 years since becoming quadriplegic. On April 10, at Launch Open Mic at Vancouver's Roundhouse Community Centre "A Living Rainbow" slideshow examining the life of this pioneer SGI Canada practitioner was presented.

For over 20 years, Vancouver Area 7 has continued the tradition of hosting Memorial Gongyo Meetings in Western Region. This year's Spring Memorial Gongyo Meeting was held on April 5, at the Vancouver Culture Centre with 150 practitioners and guests attending. Practitioners from the other Vancouver SGI Areas attended as well.

On April 7, the first Young Mothers meeting of the year was held at the SGI Canada Culture Centre in Toronto. There were 11 young mothers or mothers-to-be with 12 young children and babies.