SGI Canada Celebrates the New Year
By Dwight Rudisuela, Ottawa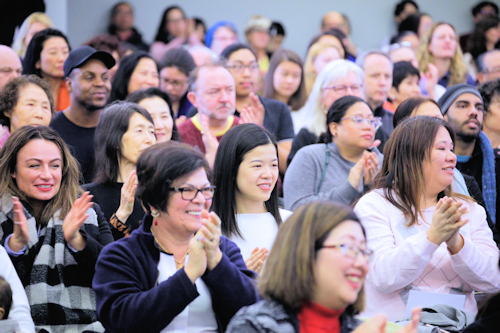 Toronto New Year meeting (photographed by Tom Hamilton)

On January 1, SGI Canada celebrated 2019 designated as the "Year of Soka Victory—Toward Our 90th Anniversary," in many cities across the country. The spirit of having achieved our goal of reaching 10,000 practitioners in 2018 was evident in the happy, high-spirited meetings.
SGI President Daisaku Ikeda sent a message in which he encouraged us to exert ourselves to brightly illuminate the places where we live—the world as a whole—and the future with the light of human revolution making 2019 a year of supreme fulfillment, radiant hope, and victory in all our endeavours.
Youth played a prominent role in many of these meetings, leading the chanting, sharing personal experiences, reading messages, emceeing and supporting cultural performances.
From left: Ottawa New Year meeting (photographed by Lynda Matsumoto), Vancouver new year celebrants (photographed by Po-wah Ng)

The practitioners of SGI Canada were eager to start the new year by refreshing their practice of Buddhism and make determinations for the coming year. As one person from Winnipeg said, "I'll be strong and I'll win in everything. I'll become absolutely happy and spread the happiness and beautiful spirit of Soka for others."
From left: Montreal New Year meeting (photographed by Monick Lanza), Sharing an experience in Calgary (photographed by Henry Cheng)

With many new practitioners officially joining SGI Canada, the meetings were full of joy and powerful determination to make 2019 a time for personal growth and caring for the happiness of others. Taking to heart the teachings of Buddhism and encouragement from President Ikeda, the message to be the protagonist to create a hope-filled future right where we are is key in transforming the world we live.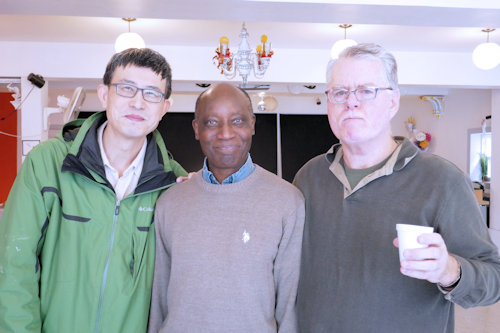 Halifax new year celebrants (photographed by Nick Lopresti)