Winnipeg Honours March 16 Attendee
By Ashriya Panesar, Winnipeg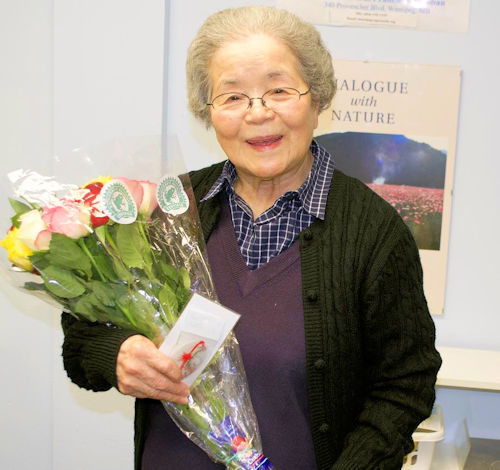 Ms. Katsu Suzuki at the Winnipeg Community Centre

On March 4, Katsu Suzuki, who will be 90 this year, was honoured by Winnipeg practitioners during their March Kosen-rufu Day World Peace meeting. Ms. Suzuki was present at the historic meeting 60 years ago on March 16, 1958. At the meeting, 6,000 youth gathered with their mentor second Soka Gakkai President Josei Toda near Mount Fuji. On that occasion, President Toda entrusted the responsibility of kosen-rufu (world peace through spreading the humanistic ideals of Nichiren Buddhism) to the youth and he also declared his opposition to nuclear weapons. This significant meeting serves as an eternal prime point for SGI practitioners.
The Winnipeg youth presented Ms. Suzuki with flowers expressing their deep respect for her consistent and encouraging presence at all of the activities at the Winnipeg Community Centre.
Ms. Suzuki's first recollection of Mr. Toda was one of surprise—that a strong follower of this Buddhism would smoke so much. Later, she learned that you can just be yourself in this Buddhist practice.
She recalled that every young leader was offering help to Mr. Toda during this event due to his extremely frail health. At first he was hesitant to accept their support but finally he accepted, being aware of his own situation as well as the sincerity of his youthful disciples.
Ms. Suzuki also recalled attending Mr. Toda's funeral on April 2, just less than a month after the March 16 meeting, where she witnessed the beautiful relationship of mentor and disciple displayed by the young Daisaku Ikeda at the loss of his mentor in life. Being amazed and moved by this, she felt immediately connected to the heart of both President Toda and Ikeda.
When Ms. Suzuki came to Canada in 1969, she was struggling with poor health but she made the determination in her faith to never give in to defeat. Buddhism concerns itself with win or lose. As a result, through her earnest practice, she was able to regain her health.
Ms. Suzuki has been practising Nichiren Buddhism for 62 years and chants three hours every day. She attends every district meeting and chanting meeting at the Winnipeg Centre. Her sincerity and joyful spirit are an inspiration to everyone, especially the youth.